READING ON A TABLET? 
THIS POEM IS BEST FORMATTED FOR LANDSCAPE VIEW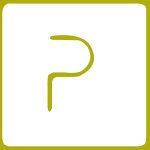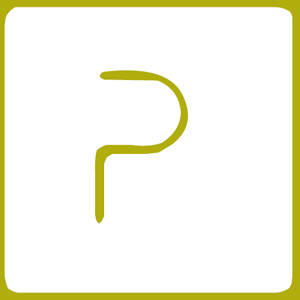 PHONETICS
by Maya Salameh
Runestone, volume 6
CLICK IMAGE BELOW TO READ POEM (IMAGE) AND FLIP PHONE TO LANDSCAPE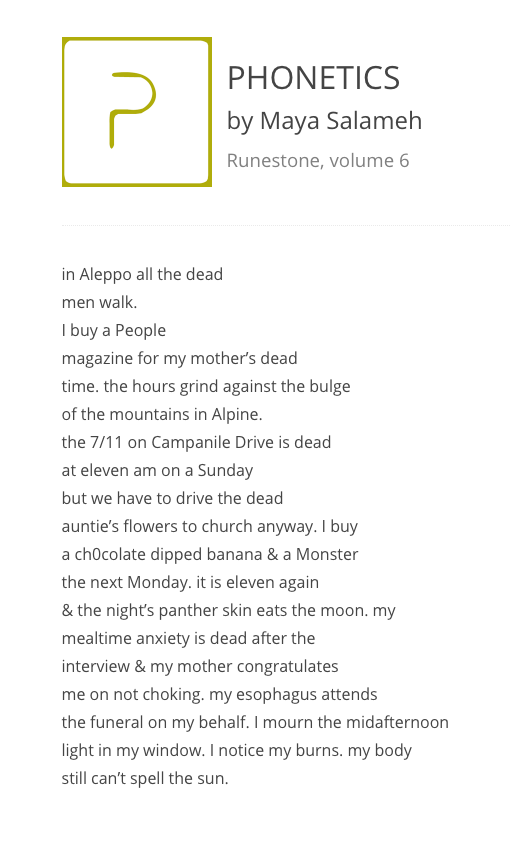 in Aleppo all the dead
men walk.
I buy a People
magazine for my mother's dead
time. the hours grind against the bulge
of the mountains in Alpine.
the 7/11 on Campanile Drive is dead
at eleven am on a Sunday
but we have to drive the dead
auntie's flowers to church anyway. I buy
a chocolate dipped banana & a Monster
the next Monday. it is eleven again
& the night's panther skin eats the moon. my
mealtime anxiety is dead after the
interview & my mother congratulates
me on not choking. my esophagus attends
the funeral on my behalf. I mourn the midafternoon
light in my window. I notice my burns. my body
still can't spell the sun.
Maya Salameh
Stanford University
Maya Salameh is a sophomore at Stanford University studying psychology, where she is a member of the nationally ranking Spoken Word Collective and serves as the Artist-in-Residence at the Markaz Cultural Center. She is a 2016 National Student Poet, America's highest honor for youth poets, and has performed at venues including the Obama White House and Carnegie Hall. She is currently working on a book, habibi, articulating Arab-American culture, conflict and consciousness. Her work has been published in the Greensboro Review