READING ON A TABLET? 
THIS POEM IS BEST FORMATTED FOR LANDSCAPE VIEW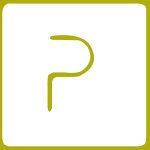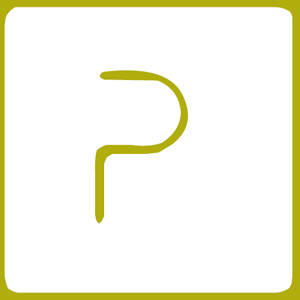 June 21: Poem for Kearney
by Tyler Michael Jacobs
Runestone, volume 6
CLICK IMAGE BELOW TO READ POEM (IMAGE) AND FLIP PHONE TO LANDSCAPE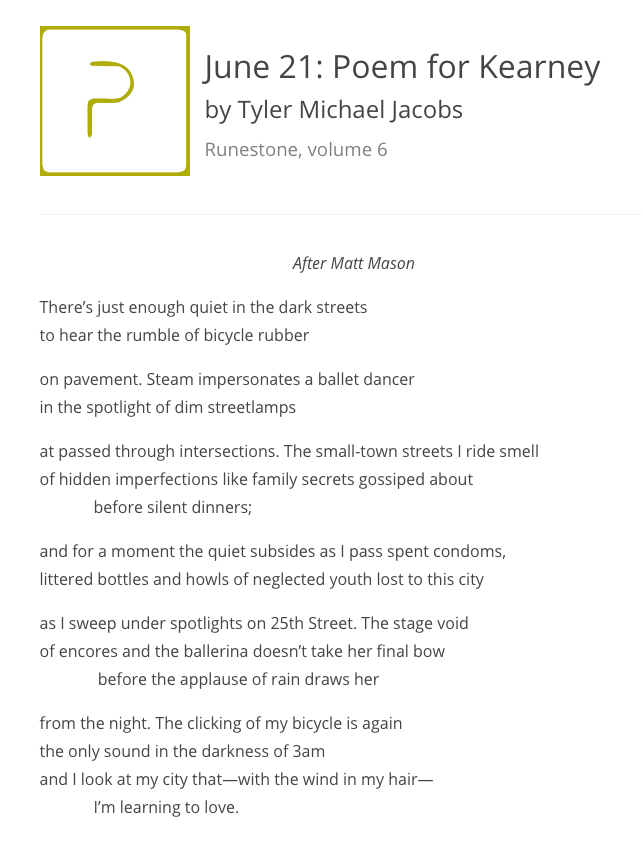 After Matt Mason
There's just enough quiet in the dark streets
to hear the rumble of bicycle rubber
on pavement. Steam impersonates a ballet dancer
in the spotlight of dim streetlamps
at passed through intersections. The small-town streets I ride smell
of hidden imperfections like family secrets gossiped about
             before silent dinners;
and for a moment the quiet subsides as I pass spent condoms,
littered bottles and howls of neglected youth lost to this city
as I sweep under spotlights on 25th Street. The stage void
of encores and the ballerina doesn't take her final bow
              before the applause of rain draws her
from the night. The clicking of my bicycle is again
the only sound in the darkness of 3am
and I look at my city that—with the wind in my hair—
             I'm learning to love.
Tyler Michael Jacobs
University of Nebraska at Kearney
Tyler Michael Jacobs is a junior at the University of Nebraska at Kearney where he is pursuing a Bachelor of Arts in English with a minor in creative writing. He currently serves as editor-in-chief of UNK's literary journal The Carillon. His poetry has appeared, or is slated to appear, in The Carillon, Poached Hare, The Magazine, The Hole in the Head Review, and East by Northeast Literary Magazine.