READING ON A TABLET?
THIS POEM IS BEST VIEWED IN LANDSCAPE MODE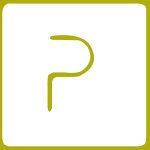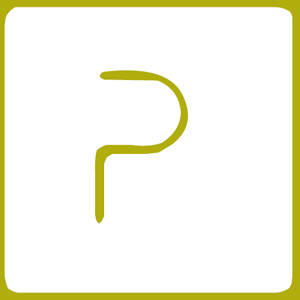 NOLA
by Mariah Rose

Runestone, volume 5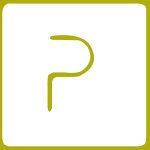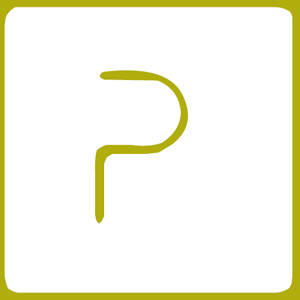 Runestone, volume 5
 
NOLA
by Mariah Rose
CLICK IMAGE BELOW TO READ POEM (IMAGE) AND FLIP PHONE TO LANDSCAPE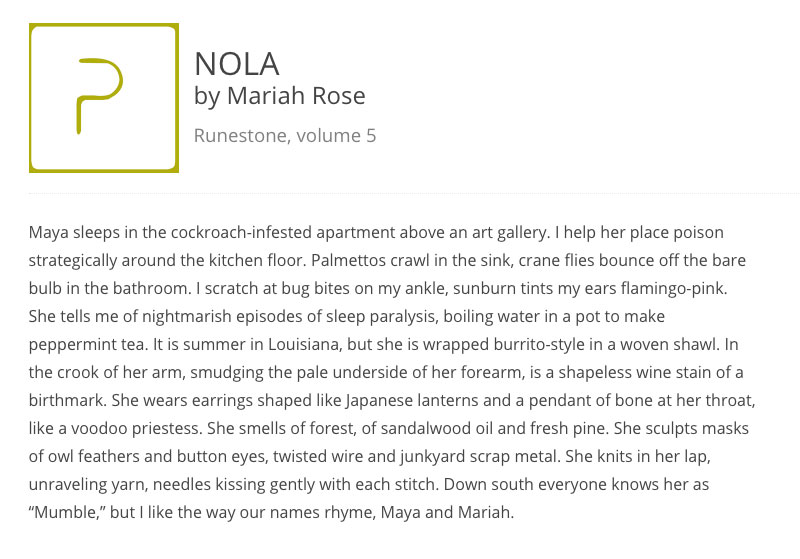 Maya sleeps in the cockroach-infested apartment above an art gallery. I help her place poison
strategically around the kitchen floor. Palmettos crawl in the sink, crane flies bounce off the bare
bulb in the bathroom. I scratch at bug bites on my ankle, sunburn tints my ears flamingo-pink.
She tells me of nightmarish episodes of sleep paralysis, boiling water in a pot to make
peppermint tea. It is summer in Louisiana, but she is wrapped burrito-style in a woven shawl. In
the crook of her arm, smudging the pale underside of her forearm, is a shapeless wine stain of a
birthmark. She wears earrings shaped like Japanese lanterns and a pendant of bone at her throat,
like a voodoo priestess. She smells of forest, of sandalwood oil and fresh pine. She sculpts masks
of owl feathers and button eyes, twisted wire and junkyard scrap metal. She knits in her lap,
unraveling yarn, needles kissing gently with each stitch. Down south everyone knows her as
"Mumble," but I like the way our names rhyme, Maya and Mariah.
Mariah Rose
Temple University
Mariah Rose is an English major at Temple University in Philadelphia, PA. In her free time she works as a music journalist for WXPN and serves tables at a local comedy club.