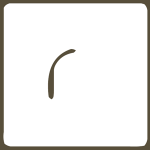 REVIEW:
One Day We'll All Be Dead and None of This Will Matter, by Scaachi Koul

Runestone, Volume 4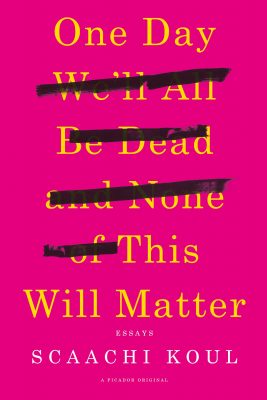 One Day We'll All Be Dead and None of This Will Matter
Scaachi Koul
978-1250121028
Essays
Review by Liv Kressler
 
In this distinctive set of essays, Scaachi Koul delves into the rough waters of racism, sexism, rape culture, and relationships, bringing her readers to the surface just long enough for them to catch their breath. With wit, gusto, and authenticity, Koul traverses through her murky father-daughter relationship, all-too-relatable accounts of embarrassing teenage years, the pain and magic of Indian weddings, and more, allowing these moments to gracefully guide her to a heart-warming finale centered around family and purpose.  
Readers will surely find delight in Koul's fearless take on controversial topics, turning experience to meaning. One Day We'll all be Dead raises a question humans have been debating since the beginning of time: In the end, what really matters? Koul plays with the issue in recounts of her run-ins with date-rape drugs, anxiety over the age of her significant other, and the destructive lives of former college friends. She subtly hints at the dichotomy between her former self, in which she believed appearance and outcomes where the very meaning of life, and her present self, where she has come to peace with the journey, and the things that truly matter.
Delicately slipping mentions of her father into many of the essays, Koul gives the reader glimpses into her personal meaning of life. As the reader (and author) continues to learn and understand the meaning behind the actions of her father (who ultimately becomes a central character by the end) they are enlightened by a quirky relationship that stands strong against all odds. This growth of the connection between father and daughter shows the audience that if one thing does matter in the end, it's the bond that grows old with wisdom and adoration, rather than years.
Koul squeezes intense situations and hilarious memories into a piece that's quite easy to swallow. She is frank and to the point, and surely recognizes that her writing is but a blip in a reader's life, knowing full well it may have no impact on them (hence the title). But as she states to her distraught and exhausted cousin in the midst of her seven-day wedding celebration, "The good news is, one day we'll be dead and none of this will matter." Surely, she must know that this book will go on meaning something to its readers.  
LIV KESSLER
Hamline University
Liv Kessler is a student in her final year at Hamline University, studying creative writing and digital media arts. She enjoys reading all genres, but focuses her writing on creative non-fiction and poetry. Post-graduation, she hopes to remain in the cities and utilize both of her degrees. She enjoys being active, and is a member of Hamline's track and field team, as well as a former member of the gymnastics team. In her free time, she enjoys outdoor activities, cleaning, crafts, making coffee, and writing. When she's not at school, she loves heading home to Chanhassen, MN to spend time her with parents and brother.