Herd-hand's Ghazal
by Julien Griswold

Runestone, volume 9
Herd-hand's Ghazal
When my father took his hands off his very important belt, he passed
the cigar stub between his lips, perched like a cowboy hat.
Do not cry to me of runaway bulls– we all search authority
from the brim and groove– I do not wear the cowboy hat.
Today I braid red ribbon through my plaits to call the ranch
herds home and wish the wind would make each strand my cowboy hat.
To scrape the horns from a steer is a sacred act: the ownership
falls from warrior to rusty spurs; give the cowboy back his hat.
Please, I'll paint you any color you like if you show some respect
for the slinger as we lay him down. Today, the cowboy holds his hat, black.
CLICK IMAGE BELOW TO READ POEM (IMAGE FILE) AND FLIP PHONE TO LANDSCAPE FOR BEST VIEWING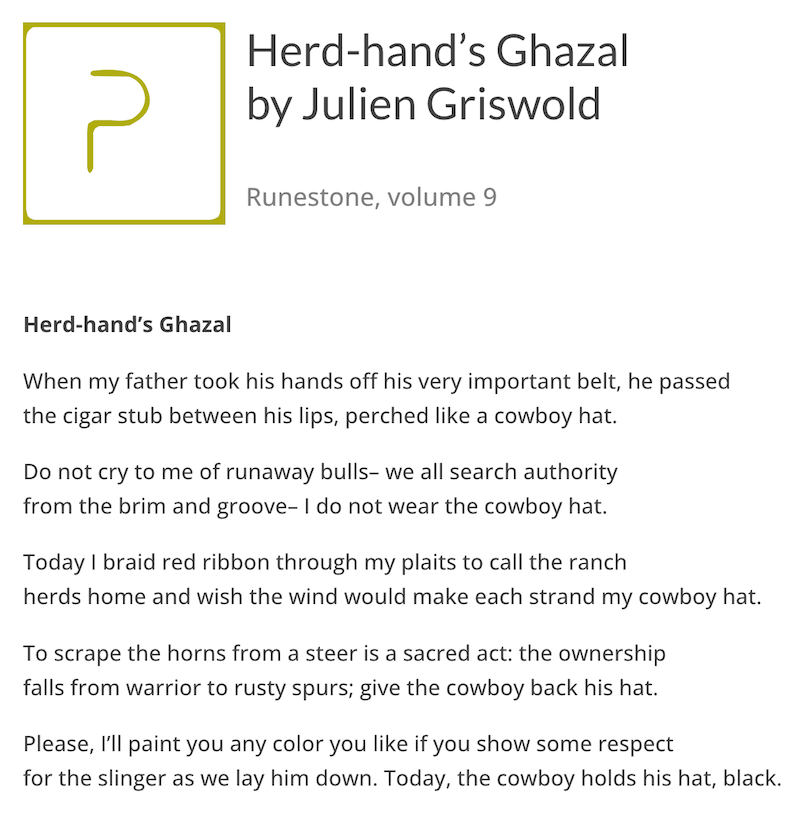 Julien Griswold
Brown University
JULIEN GRISWOLD (they/them) is a non-binary poet studying literary translation at Brown University. Their work has appeared in Neologism Poetry, The Racket Journal, Sad Girls Club, Philadelphia Teen Stories, LIVE POETRY SOCIETY OF NEW JERSEY, and more. Connect with them online @cheerupjulien on Instagram.