Young Adult is one of my favorite genres to read. It is also one that has many series. Choosing favorite series of this genre can be both easy and hard. While YA may not always get the credit it deserves, the quality of writing is actually quite high and it does have a very wide readership. This is largely due to the fact that the writing styles are often fun to read. These books are less dense than other genres, and the authors seem really invested in keeping their readers' attention. When it comes to YA, I consider how much I enjoy a series or standalone novel over other aspects.
Wolves of Mercy Falls by Maggie Stiefvater
This book series has an interesting take on werewolves. It is a series driven by it characters. The book deals with the relationship between Grace and Sam, two teens who give each other the companionship they lack from other people in their lives. Grace is a practical girl who is also lonely; Sam is a kindhearted boy who wishes to stay in his own skin as long as possible. Writing in this series, especially when it comes to describing temperature, stuck with me long after I finished the series.
This series is one about a young girl named Sophie. Sophie is a witch who is sent off to boarding school for witches, shapeshifters, and fairies after she loses control of magic one to many times. In the books there are delightful characters, good friendships and romances, as well as an interesting plot and mythology woven throughout.
Gallagher Girls by Ally Carter
The Gallagher Girls series is about a group of girls that go to spy school. The series starts off pretty light and fluffy, but as it moves on things get a lot darker and more intense. Throughout the series there is a strong sense of female friendship which is something that I always find delightful, and there is also some romance thrown in that adds something entirely to the piece.
The Darkest Powers by Kelley Armstrong
This is a series about a girl who has the powers of necromancy. At first she believes that she's crazy, but after meeting other people with supernatural abilities she learns more about herself, as well as an organization that is out to harm people like her. This series starts a bit slow, but once its plot gets going, towards the end of book one, it never really slows down again until the end of book three, which makes for an exciting read.
The Lunar Chronicles by Marissa Meyer
This series retells fairytales using science fiction elements. The first book of the series is a retelling of Cinderella and the Cinderella character in this story is a cyborg named Cinder. These books offer a new twist on both fairytale retellings and science fiction stories, which makes this series very interesting.
Meet the blogger: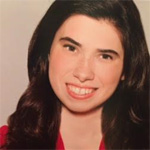 ALLIE FOGELBERG is a student at Hamline University who is studying creative writing with a focus in fiction. She is an aspiring writer of young adult literature.