Making Google recognize your existence
People online don't read. We all know this, even if we try to deny it. A blog or a web page just won't be read in the same way as a book or a paper.
We all have experience with searching content online (hey, you made it here didn't you?) and we all know that not every web page is equal.
But how do make your web page the best?
It can be frightening to publish online, and that's totally understandable. Not only are you trying to write your best, you're also putting yourself out there on the web—a very scary and very public place.
You've probably picked up some personal preferences and opinions, but what do they actually mean? And how can you begin to make web content?
Have no fear, instructions are here
Having read the articles and combed through the Google Analytics, I can now bring you the info you need. These instructions will get you off on the right digital foot.
1. Decide on a message

Nothing crazy, but it rings true. Web content is at its best when it's short, sweet, and to the point.
Readers will engage with your content when they find what they're looking for, but in order to find it, it needs to be easily digestible.
Pick a singular "call to action," one thing you want your reader to do with your page (buy something, share your post, etc.), and stick with it.
2. Start with the good stuff

The formula is simple: start with your statement and then fill in background information if needed.
Typically when writing, we like to give a long flowing intro into our main point or "thesis," but that just doesn't work for online readers.
When we write for an online audience, who are not willing to wade through paragraphs to get to the information they need, we can't hide our good information.
3. Break up your paragraphs
Most of the time, a paragraph should be a sentence.
Dense paragraphs are daunting to online readers. Who wants to waste time wading through a huge chunk of text when you could google a shorter answer?
4. Format simply
Always left justify.
If you leave with no other information, always left justify. It's the simplest thing you can do, and the most helpful.
Way back in 2006, a study was done that tracked people's eye movement when looking at a webpage. The results are consistent today. People scan in an "F" pattern, as you can see in their images.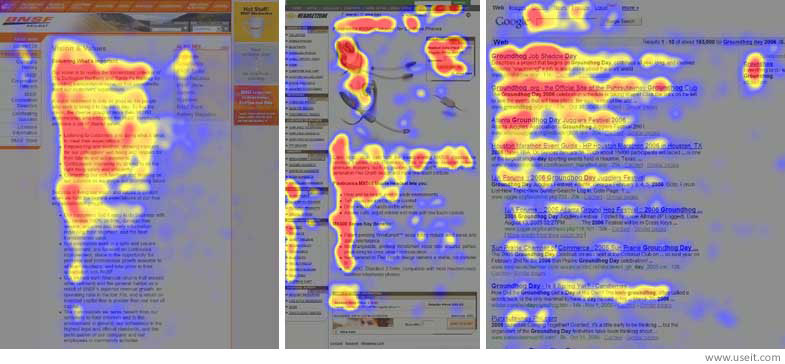 Left justifying enables people to scan your information and find your content. This means they are less likely to leave out of frustration.
5. Add headers and bold text strategically

Making text bold or turning it into a header not only lets readers know what's important, it also lets google know what's important.
That being said, use sparingly.
We all know that all caps letters are a no-no because they come across as aggressive, and people will usually ignore anything in caps.
The same is true for headers and bold letters. Anything in a special font or weight stands out, but if you make everything important, nothing is important.
Whoa.
6. Know that nothing is ever "finished"

The nature of writing is that it can always be improved. Online or offline, writing is never done.
You might return to a page that you worked hours on and find that you can still take out unnecessary words, or reword things into a more active voice.
Meet the blogger: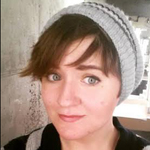 BELLE ALLAN is a junior, studying creative nonfiction and English at Hamline University. She has worked as a web-editing intern in Hamline's marketing communications office for three years. Belle hopes to combine her burgeoning web know-how with her longtime love of writing and editing in her career after graduation.