Reviewed by PAUL PATANE

Move over Jack London. Minneapolis author Peter Geye may have an urban background but his new novel, Wintering, has all the suspense, tension and elegant prose to describe a bone-chilling rural setting one expects from one of London's beloved novels.
Known for taking his readers away from the city and into Minnesota's northern woods, Geye's latest work presents the tale of Gus, his father Harry, and the woman stuck in the middle of everything—Berit.
Together, they represent over half a century of history, as Wintering shares two separate tales intertwined into one larger narrative that serves as the framework for a life-defining story while featuring love, heartbreak, justice, and closure.
The first story brings an elderly Berit and Gus together over the disappearance of Harry. Separate, the two can't quite make sense of the greatest chapter of their lives. However, Gus opens up, sharing the adventure of a lifetime that brings everything together while helping both Berit and Gus find a peace that hadn't been available before.
Full of depth and emotional complexity, Geye's principal characters inhabit the small town of Gunflint and read as real as any town's cast of personalities. Gus in particular breathes life onto the page as he helps make sense of things for both Berit and himself—even though he doesn't seem to realize it. Berit, on the other hand, is more solitary and reactionary, providing a sad subtext for both her unfulfilling life choices and the novel as a somber backdrop.
In the second story, Charlie, the self-proclaimed ruler of Gunflint, conspires against the trio of protagonists. Highly motivated, Charlie manipulates circumstances in a way that leads to Harry and a young, angsty Gus having to fend for themselves in order to survive. In addition to dealing with Charlie's treachery, the father-son duo have to work against the elements, including Minnesota's greatest annual obstacle: winter.
While many have experienced a dreaded Minnesota winter: Harry and Gus go through worse.
Not only are they on the run from an antagonist who has more money, friends, guns and overall resources than them, they're on the clock—frantically trying to build a sustainable way of life that can keep them alive long enough to fight back. Throw in that they have to live in a simple shack without many of the most basic amenities while doing so, it's a wonder they're able to do more than simply curl up in a blanket with a cup of coffee and have a good cry.
By intertwining two narratives into one grand novel, Geye tells two separate adventures that can stand alone formidably, but together, they work seamlessly to achieve more fulfilling results. Utilizing this structure, Geye cleverly fleshes out two points-of-view that are able to complement the novel and each other, rather than competing against one another.
Wintering is Geye's third published novel and first with Knopf. His two previous novels, Safe From the Sea (2010) and The Lighthouse Road (2012), were published by Unbridled Books.
Meet the editor: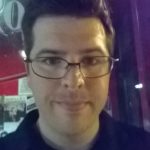 PAUL PATANE is a fiction writer, screenwriter, and journalist. One of his screenplays, Two Too Many, was featured at the 2014 ACTC Film Festival and his most recent short film, Death of the Newsman, is streaming online. Originally from Washington, D.C., he lives in Minneapolis and likes to drink scotch, line edit, and go to rock concerts. Paul is in the low residency MFA for Writing program at Pacific University in Oregon. He graduated with a BFA in Creative Writing from Hamline University in Spring 2016.