A few weeks ago, I was sitting in a Caribou Coffee and peer editing a friend's fiction short story. During a break to refuel, we started to chat about literary journals and how necessary they are to read, support, and ultimately, submit to. You're widely encouraged to have a thorough understanding of the journal you're submitting to if you expect to have any real shot at publication (HINT: Know the name of the editor or editors you're submitting to and don't begin your cover letter with "To Whom It May Concern"). This is common sense, right? You don't want to submit your horror short story to a journal that only wants religious or spiritual themed short stories. Knowing who to send your stuff to often comes from reading a copy or two to have a better understanding of what's out there and what that specific editor or journal you're submitting to seeks.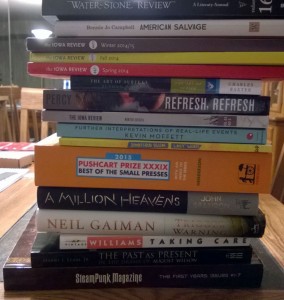 But there's a problem. Whether you're an undergrad or MFA student, funds are limited so how can you be expected to pay for a journal when you can barely afford tuition and school books? If you know where to look, solutions are available. Some journals have gone online and offer free or discounted eReader or PDF copies. If you workshop with a group of friends regularly, maybe you can each offer to get a subscription to one journal and frequently trade copies to increase circulation without shrinking your wallet. You can always go to your local library, too. The point is you're creative, so find creative solutions, research journals and get your readers.
The world of literary journals is hemorrhaging cash to the point you're likely to be paid in contributor copies or with only a hearty thank you after all your hard hours of sweat and sleepless nights over a cup of tea or hot coffee. And that's when your work is accepted. The reason behind this is the circulation of the journals themselves is poor, at best. So why do they exist…and more important, why submit to someone who can't pay you any money?
To network with your peers, editors and to build a base of readers. By finding the right journal to submit to, you will find editors and readers who will appreciate your work and treat it with the respect it deserves. By connecting and networking with editors and readers, you ultimately find an audience. It doesn't matter how good your poem, short story or creative nonfiction essay is if you keep it tucked away in a filing cabinet or on a USB drive. The bottom line is the journals need you and you, the author, need the journals.
Which brings me to Runestone. There are very few BFA run literary journals which are online and exclusively for undergraduate students across the nation. Embrace and relish in the fact that even though we're new, Hamline University, its faculty and students, have a rich and diverse history publishing Water~­Stone Review through its MFA program. Know that if you submit to us, we'll respect your work, value it and keep it confidential. Embrace Water~Stone's "punk kid sister," Runestone.
---
 
Meet the blogger: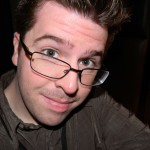 Originally from Washington, D.C., I moved to Minnesota and received an AFA in Creative Writing from Normandale Community College before transferring to Hamline University to complete a BFA with an emphasis in fiction. In my spare time, I herd cats, read Hemingway and drink scotch.