No matter when we've begun in our writing careers, we are bound to leave unfulfilled and unfinished works in our wake. Some of them we've discarded so long ago that they are nearly forgotten, unless they've been unearthed from an old notebook in your childhood bedroom or deep in the files on your computer. Either way, there they are, and now you have the urge to do something with them.
Before making any decisions about what to do with your previous work, read through each one. What parts did you enjoy? Which ones make you cringe? Is there anything that's hard to understand? Take notes while reading, but don't change anything yet. If you're up for it, share with friends or fellow writers and see what they think. From there, you can do some of these four things:
Pick Up Where You Left Off
If you have an incomplete piece, what stopped you from writing it? Disinterest, difficulty writing, and distractions are all valid reasons to leave a story behind, but they can also be resolved.
Start at a new point of the story, even if it's just rewriting the whole thing from the beginning.

Take note of where you grew disinterested. How can you make the story more refreshing?

Free write or build plot and character design outside of the piece itself.

Write down how you want the story to end and what it'll take to get there. Then fill in the gaps of your story.
Destroy the Evidence
Maybe the story came from your middle school vampire obsession phase. Maybe you don't want to be reminded about the time you wrote a poem about that cute stranger on the bus you were too afraid to talk to. Understandable. You can just move these works to the trash icon on your computer, or throw them in the recycling. Or have a little bit of fun.
If it's not already a hard copy, print it out.

Make it into a hat

. You are the captain now.

Post it somewhere anonymously, like

txt.fyi

, before deleting it from your computer.

Burn it, bury it, or turn it into a message in a bottle. Where you leave it last is up to you.

Open up the word document and backspace the entire piece until you're left with an empty page. Then start fresh.

Cut up the pages into pieces. Use the scraps as confetti or

make your own paper

.
Reuse and Recycle
Ideas and prose don't have to be lost in a piece that will never see the light of day. Even if it doesn't work, you're closer to a solution than you were before. 
Try an old idea in a new format. Would this fiction piece read better as a play? Can your prose be broken up into poetry?

Use a notebook or file to keep all your bits and pieces of old writing in. Add to and draw from it when the timing is right.

Mix and match your works. Try swapping characters and plots of stories, or play around with genres.

Sort them—chronologically, alphabetically, by genre, or least favorite to favorite. Any exercise that can bring your old works to the front of your mind again will do.
Move Forward
It's okay not to do anything with your old works. You can ignore every piece of advice this article gives you and start fresh without having second thoughts about your previous works. Just know that there is strength in learning from the past, and it's nice to reflect on where you've started and how you've grown as a writer. 
Meet the blogger: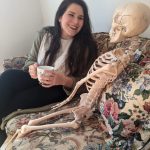 EMILY POUPART is a senior at Hamline from Lac du Flambeau, Wisconsin. She hopes to go into publishing after she graduates, and enjoys plants, reading, and being indoors.