Cringe? In MY fairy tales? 
It's more likely than you might think. After all, very few stories age gracefully, I'd go so far as to say hardly any of them do. Fagin is referred to as "the Jew" several times throughout Oliver Twist, there are maybe three female characters in the Lord of the Rings trilogy, and don't even get me started on H.P. Lovecraft. 
Seriously. Don't. 
Okay, fine, I get it. But why should I care about all this Disney crap? 
Fairy tales are a serious part of popular culture, and the things that they teach us sometimes have merit, like true beauty includes kindness and if your friends don't value your labor, you're allowed to eat them. However, fairy tales also teach us racial stereotypes and harmful gender roles. 
I'm not saying that kids will believe anything just because it's in a fairy tale. Upon finishing the tale of Giselle as a child I had a very quick and illuminating conversation with my mom, in which I posited that the titular character committing suicide "over a boy" was "dumb." 
I was four. Out of the mouths of babes, as they say. Mom agreed wholeheartedly with my position, and we quickly moved on to the next installation in the book of ballet stories. That being said, not everyone has my innate inclination to question authority. 
That begs the question, what the folk can we do about it? 
Are you one of those splintery fairy tale people, ya weirdo? 
As a matter of fact, I am very much a fractured fairy tale person. And why shouldn't I be? They're neat. I was always a big fan of Jane Yolen (How to Fracture A Fairy Tale) and Vivian Vande Velde (Tales from the Brothers Grimm and the Sisters Weird), so I love a good fractured fairy tale. 
But I also love a good retelling. From the gut wrenchingly disturbing (Neil Gaiman's Snow, Glass, Apples) to the charmingly adventurous (Shannon Hale's Rapunzel's Revenge), a complete retelling of a fairy tale is always something I can get behind. 
Wait a minute. I thought your whole thing was that kids are more astute than people give them credit for. So why again should I part ways with a rodent's tucchus for better folk and fairy tales? 
Because we can always be better, Subtitle Antagonist Nincompoop. I'm not saying it all has to be smiles and sunshine. After all the practice I did in grade school so that I could kill off my own characters, I would never say that. 
I'm saying that lessons can always be taught better. The bad guy doesn't have to be an anti-semitic caricature. The heroine doesn't have to be pliant and voiceless. The witch doesn't have to be ugly. The prince doesn't have to be handsome. 
In fact, I think I prefer it my way. Wacky and upside down, but maybe just a little bit more real. 
Alright fine, you've convinced me. But that's not really all that impressive given that I am a figment of your imagination. 
…
Shut up. 
Meet the blogger: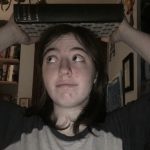 ARI STEMPLE is a creative writing student at Hamline. They enjoy drawing, Jane Austen, and Studio Ghibli films. This is their final year at Hamline.