There's always something that needs to be said. Some perspective that sheds light on a subject that matters to us know. Writing can be our best source of unadulterated honesty.
Why can't you write it?
It's impossible nowadays to live without knowing the problems everyone is talking about. Racism, gun violence, sexism, body image, or just politics, it's all fair game and it's all important to talk about.
With creative nonfiction, the inward reflections can speak to a moment in time for our nation. In a recent issue of Brevity, a flash piece called Saftey accomplishes this by ruminating on personal safety. In today's climate of gun violence and international upheaval, it speaks volumes.
Sometimes as writers, we hesitate to approach huge topics as they happen in real time. We don't want to overstep, or to leap and say something wrong. Worst of all, why should I write about these things?
The truth is, these are the moments when we have to write.
We can only really find answers when enough people join the conversation. As writers, our best mode for creating change is our writing. Really, we can't know how enlightening our perspective is until we send it out into the world. When Joni Tevis spoke with our editing team, she mentioned exploring, collecting information. In turn, she herself has managed to bravely write about death, fear, and mourning in new and profound ways.
At Runestone, we look for those pieces that have something to say about current events. As an online literary journal, we have a very short turnover time which makes it the perfect vehicle for timely writing.
So, start writing.
We know you have opinions, things you have said in private or in class that you can get down on paper. You can add your voice to the current debate on whatever matters to you.
Then, of course, send it to Runestone. (Editor's note: We are open now to your submissions and look forward to reading your work.)
Meet the blogger: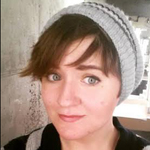 BELLE ALLAN is a junior, studying creative nonfiction and English at Hamline University. She has worked as a web-editing intern in Hamline's marketing communications office for three years. Belle hopes to combine her burgeoning web know-how with her longtime love of writing and editing in her career after Hamline.