Writers get that look. You know the one with raised eyebrows and pursed lips once you tell them that you want to be a writer? Why not be a businesswoman? How about a doctor? I told them instead I wanted to rule the world. A politician? they said. No. A writer, and here's why:
 
Writers Can Build Anything [Figuratively]
"Give me a piece of paper and a pencil, and I can do anything," is what I wanted to type on the top of my resume. Instead, I wrote something professional and bland, something like, "I am a skilled communicator, slightly organized, and independent." I would sit in interviews, selling my Creative Writing degree. I have excellent writing skills and think creatively…You need an analytic mind? Well, one time I wrote a story about a mathematician who could create algorithms that determined a person's future. Imagine that, everyone knows his or her fate…
I began to doubt my love for writing during these interviews. Maybe I should have already grasped the idea of being a hobo who would live under a bridge and hand out haikus written on napkins. I could not help but wonder if being a writer is worth it. I mean, look at the engineers and construction workers who create buildings. There are scientists and doctors who save people and find cures. Those running businesses create jobs and influence the economy.
Then, I remembered those books that affected my life and the world. Finishing an amazing book is like waking up from a dream, looking at the world from a different perspective. Writers build worlds, characters, dialogue, ideas, and themes to touch the reader. The Feminine Mystique by Betty Friedan helped spark a second-wave feminist movement, The Foundation of Paradise sparked a Kickstarter to explore the idea of building an elevator to a satellite. So many books have changed history and cultures. Amazing, right?
 
Writers are Fearless… to a Point
Writers have the ability to write about anything. Need a gnome living in a gold igloo on a glass mountain? Done. How about a cannibalistic vacuum salesman? No problem. The writers have to be fearless when facing the mind's limitless imagination. They run into the unknown with a pencil (or pen) as their weapon of choice and sit in front of the terrifying blank piece of paper. Doubt tugs at their sleeve, and a panic starts at their fingertips.
Neil Gaiman said, "Being a writer is a very peculiar sort of job: it's always you versus a blank sheet of paper (or a blank screen) and quite often the blank piece of paper wins." Yet, they are crazy enough to sit down again and start over. Writers do not write to make money; they do it because they love it, which is serious dedication. They send out their stories and poems and sometimes are rejected, but they keep doing it.
 
Writers strive to find a Truth
Writers create these complex worlds and characters to find or explain something. The Little Prince explores the vagaries of the adult world; To Kill a Mockingbird illustrates the race relations in the US during the Depression, and A. E. Housman's XXVI speaks of the war and the young people's situation of forfeiting their lives for their homeland. It is a commendable journey, trying to explain and change the world in one swoop. Writers change cultural norms as they influence public opinion. They are persuasive because they bend language to change the world.
I remember when I was a little girl I wanted to be a superhero when I grew up. My first choice for a super power was to fly. The second option was anything I wrote or drew would come to life (like Harold and the Purple Crayon). I could change the world with just a pencil. That is what I hope for in the future. I hope someday I can at least touch one reader's heart and change their perspective. I wish to find a truth in this world. I write because I love to write and because I am okay with being considered crazy. Why not take a job with a retirement plan or one with numerous openings?
 It is like how Ray Bradbury said, "I wish craziness and foolishness and madness upon you. May you live with hysteria, and out of it make fine stories- science fiction or otherwise. Which finally means, may you be in love every day for the next 20,000 days. And out of that love, remake the world."
---
Meet the blogger: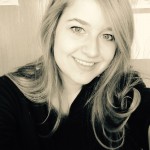 I am a Creative Writing major with an English and Business minor. My favorite writers are Anton Chekhov and Ray Bradbury. Besides reading and writing, I love to paint, finding inspiration from the Cubism movement. I live in the 'burbs with a pup named Murphy who barks… at trees.