There is a box, buried deep in my closet that contains easily hundreds of letters I have received over the course of my life – from pen pals, for birthdays, from kids I've babysat, even the occasional scrap of paper with a scrawled sentence passed to me in class. I will be the first to admit that it's a bit of a pack-rat tendency to hang onto all these letters, but there is something charming and nostalgic that keeps me from ever willingly being able to part with them. 
Perhaps I am overly-sentimental, but there's an often unnoticed beauty in a handwritten letter that is slowly dwindling away in the rise of much more efficient forms of communication. Why sit down to laboriously write out a letter to someone that will take days to even get to them? There is certainly no longer much logic to it, but there is a lost art.
I have found that it can be deeply personal to receive a handwritten letter. In an age where everything is being transformed to the peak of hyper-efficiency, knowing someone took the time to find some paper or a card, whip out a pen and write a note solely for my eyes can be more meaningful than a quick text message or email. Beyond that, the importance does not dwindle with time. As I look through dozens of letters, there's still an excitement in unfolding paper that has become soft at the edges, reading old letters I've already read, learning again what someone wanted to tell me. 
Beyond that, I love the uniqueness of handwriting. I've heard countless people say that they hate their handwriting or that it's terrible. I argue that no handwriting is truly terrible. Even the near illegible handwritings that take a bit of deciphering are wonderful, because they are just like humans – consistently different. Handwriting could even romantically be looked at as a physical expression of their personality.
To those who may argue that they never know what to write in a letter, I am well acquainted with that prick of anxiety when staring at a blank page and realizing that you have no idea what you want to say to that person. But I also have a "letter" buried in my cardboard box that is just my name written about thirty times all over the page and it still makes me smile when I see it. Sometimes it doesn't have to be the eloquence of the words we write, but rather the gesture of human kindness in written form. Beyond that, as much creative energy you use to write a story or a poem could easily go into writing a letter. Just because you have a much smaller audience doesn't mean you can't make artistic choices in your creation.
As writers, we have the opportunity to utilize our love for the written word and create messages to those important to us – to uplift them, to tell them a story, or just to make them laugh. With the holidays approaching and the wallets of students always too thin, maybe a handwritten letter could take the place of a gift. Maybe the joy found in receiving a letter is not universal, but there are those who would deeply appreciate the gesture and perhaps you never know until you try.
Meet the blogger: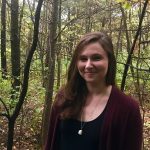 MOLLY JOHNSON lives and writes in the Twin Cities. She is a graduate of Hamline University, with a BFA in Creative Writing. She was awarded the 2018 HU Broadside Award in Fiction and is now pursuing her writing career outside of college.