For many writers, gaining experience and knowledge are major parts of the writing process. Barbara Kingsolver, the author of the creative nonfiction book Animal, Vegetable, Miracle spent a year focusing on eating locally in order to write a book about her experience. Rebecca Skloot, the author of the New York Times Bestseller, The Immortal Life of Henrietta Lacks, spent ten years conducting research and interviews before completing her novel. In turn, I have been inspired by both Barbara Kingsolver and Rebecca Skloot within my own writing. Rebecca Skloot's work is a fantastic example of blending narrative with hard facts, and Barbara Kingsolver's work demonstrates a strong voice and characterization. 
Specific research for a book is wonderful, but I wondered if it would help my writing to intentionally engage with other art forms without a story in mind. Good writers read things that don't resemble their own works. They use a diverse range of sources to improve their writing. The literary world is full of gems, and it doesn't take much exploring to understand how it shapes your own writing. This extends beyond the literary community. To learn more about multidisciplinary art in relation to writing, I looked to modern artist Simphiwe Ndzube. 
When I walked into Simphiwe Ndzubes's exhibition "Oracles of the Pink Universe" at the Denver Art Museum, I was immediately drawn to the narrative artistry of his work. Ndzube is a painter and sculptor. His art depicts a fictional world and cast of interesting characters. Ndzube's work illustrates an original creation myth to grapple with the consequences of apartheid in South Africa and racial injustice worldwide. 
Not only does Ndzube use interesting characters and intriguing storylines in his work, he carefully crafts the sensory experience of walking into his gallery. His work is a physical manifestation of carefully crafted poetry. Much of his work sits on a flat canvas with 3D elements that add depth. His use of colors helps guide the eyes of the audience around the piece. 
Natural colors are juxtaposed with various shades of pink. Everything from the lighting, music and use of empty space has been arranged to tell a story. The poetry his work could inspire is limitless. 
Ndzube himself isn't afraid to learn from other artists. His work takes inspiration from Heironymous Bosch, known for his whimsical depictions of biblical scenes, and Italian sculptor and painter Michelangelo. Ndzube used a multidisciplinary approach by studying magical realism as a literary genre and closely looking at Gabriel García Márquez's One Hundred Years of Solitude. 
The work of Simphiwe Ndzube is far from the only art that writers can learn from. Songwriters carefully craft albums to create an auditory experience, and ballets often tell stories. Abstract artists create tension in their pieces by using texture, symbolism, and blank space. I realized that when I examined the art I am surrounded by every day, I couldn't help but be inspired. So, learn to knit, listen to that free bluegrass concert in the park, take time to appreciate the graffiti in your neighborhood, buy yourself flowers to examine the arrangement, and most of all, enjoy yourself. 
Meet the blogger: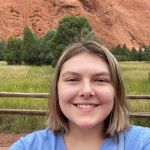 OLIVIA ROSE LEE is working on her BFA in creative writing at Hamline University. She is an aspiring novelist interested in exploring environmental writing, mixed media art, and modern folklore.