It's October, and Halloween is slowly pushing its cart of tombstones, candy, and rattling bones up the street, so what's better than filling your life for a month of spooky things? For people like me October is not just a time to celebrate Halloween, it's also a time to indulge and celebrate goth-ness, darkness, the occult, and the macabre. I've dug through what I've been listening to, reading, and watching lately and here's a list of my current favorites.
Music:
Bela Lugosi's Dead – Bauhaus (1979, Small Wonder Records)
Considered to be the first "gothic rock" record, and a classic in goth subculture, this song has been on repeat whenever I have my headphones on while doing homework. Even at nearly ten minutes long, Bauhaus's first single continues to be referenced around the world during October, and I'm no exception.
Transilvanian Hunger – Darkthrone (1994, Peaceville Records)
Visceral tremolo picking, screeched vocals, and varying percussion caused this album, and the title track, to be considered a hallmark of Norwegian black metal. It's my personal favorite album to listen to at night as soon as October hits. Spooky and haunting to the core, I recommend this album constantly to friends who want something new to listen to as the weather gets colder. Black metal can be an acquired taste, for sure, but this album's atmosphere hasn't been beat in my books yet.
Books:
Failure and I Bury the Body – Sasha West (2013, Harper Collins)
Selected for the National Poetry Series, Failure and I Bury the Body is an astounding collection of poetry that links itself together as one allegory following the narrator and Failure taking a roadtrip through the Southwestern desert before picking up an unlikely passenger: the Corpse. Serious, inventive, and endlessly necropastoral, Failure and I Bury the Body has become a steadfast tomb to return to during October for some introspective, and eerie, reading.
Steppenwolf – Herman Hesse
I continuously return to Steppenwolf every fall, if time permits. As with Hesse's work, it is laden with introspection, mystery, some magic, and overall a twisting narrative that leaves the reader with questions— not just about the book, but due to allegorical nature Hesse often times takes in his novels— about the world and its state. Steppenwolf is a labyrinthine novel, with twists and turns as you follow Harry Haller into the depths of the magic theater, and the mysterious Hermine, when you finish the novel, it will feel like November 1st: coming up for air, already planning for next year's October.
Meet the blogger: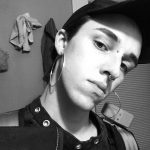 CORVA LEÓN is non-binary, latinx, poet, visual artist and fledgling gender theorist currently residing in Minnesota with aspirations to attend graduate school on the East Coast.