When I sit down to draft a poem, it is almost always in silence, headphones in to dampen the noise of whatever coffee shop I am in. Which is funny because I get so much inspiration from listening to music— especially metal. I listen to metal any time I am able, constantly absorbing the atmospheres of the different albums and sub-genres I enjoy, and think about them when writing. I always try to remember that art forms of different kinds will always blend into each other— Chance the Rapper references the poetic form of "couplets" in his song "Blessings (Reprise)", and Opeth's lyrics on Blackwater Park (2001) read like poetry. With this blending of art forms in mind, here is a list of three albums I listened to in 2016 that inspired a lot of my writing.
The important thing is to listen to the lyrics as just another instrument— whenever I listen to music with noticeable vocals while writing the motifs and words in the lyrics end up in my poetry, which a lot of the time is okay, but I feel too influenced by the actual lyrics of the songs. With metal, the vocals become another instrument and melt in with the rest of the music. I listen to metal before writing, or whenever I need inspiration, for the atmosphere that the music brings. To me, one of the most important things about poetry is it's an emotional snapshot of a moment, and the albums I listen to are emotional atmospheres that I can go in and out of and use in my writing.
Chthe'ilist

's 2016 release

Le Dernier Crépuscle

from Profound Lore Records
One of my favorite albums this year, and my first foray into atmospheric death metal. Whenever I listen to it while taking a break from writing I feel drawn into a wet cave, the slow trickle of water echoing into the depths of the earth.
 

Immortal

's 1993 release

Pure Holocaust

on Osmose Productions
Although the band is no longer together, this is a hallmark of Immortal's style of black metal: a blizzard of drums and guitar riffs punctuated by Abbath's screeched vocals. True to the contemporary rendering of the word "holocaust", destruction on a mass scale especially caused by fire or nuclear war, Pure Holocaust never lets up an onslaught of high tempo songs. I will listen to this album on warmer days when I end up writing about winter, as it always takes me back to the middle of January nights.
 

Oathbreaker

's 2016 release

Rheia

on the label Deathwish Inc.
Every fall I take the time to walk a lot, and I listened to this album consistently throughout. It has shoegaze elements I was really surprised in a metal album and threw me back to high school when I wrote and drew to Elliott Smith's posthumous album From a Basement on a Hill and Low's I Could Live in Hope. The shoegaze combined with the really hollow sound— ala black metal— felt super fall to me, which ended up in some really introspective poetry and exploring the connection between my body and the season I was walking through— the changes, the colors, the transition from fall to winter.
Meet the blogger: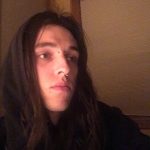 Corva León is a poet and visual artist living in Saint Paul with their cat, Roman.