Perfect Songs For Those Nice Moments in Every Book
Have you ever read a scene from a book, and instantly knew what the perfect background song would be? Have you ever watched a scene from a television show or movie, and the background music helped strengthen the emotions you were already experiencing? Here are a few songs that can perfectly describe those nice moments in every book:
When Two Vampires Finally Admit Their Feelings For Each Other
Song: "False God" by Taylor Swift
"But we might just get away with it/ Religion's in your lips/ Even if it's a false god/ We'd still worship/ We might just get away with it/ The altar is my hips/ Even if it's a false god"
Taylor Swift has been known for her ability to write heart-wrenching lyrics and catchy melodies, and her song "False God" perfectly encapsulates the feeling of two sexy, ancient supernatural beings falling in love after thousands of years of being in solitude. 
Book To Read: Vampire Academy by Richelle Mead
When the Hero Finally Faces off Against the Supervillain
Song: "Last of the Real Ones" by Fall Out Boy
"'Cause you're the last of a dying breed/ Write our names in the wet concrete/ I wonder if your therapist knows everything about me/ I'm here in search of your glory."
With narrative lyrics set against energizing pop-rock instrumentals, "Last of the Real Ones" by Fall Out Boy is the perfect song to make an epic final battle even more exciting. 
Book To Read: Throne of Glass by Sarah J. Maas
When The Protagonist Finally Gets Over Their Ex
Song: "Over You" by HOLYCHILD
"Come on, girl, your life just started/ Don't waste time so brokenhearted/ If it's done then he's not the one (he's not the one)/ Once upon a time you parted/ Soon you'll know the ancient garden/ You're a flower, you are the sun"
The lyrics of "Over You"  mixed with the cheerful and upbeat instrumentals describe exactly what it feels like to get over an ex, while trying to be happy and carefree at the same time. 
Book to Read: History is all You Left Me by Adam Silvera
Do you have a go to song that you listen to while you read? What about a playlist? Let us know in the comments below!
Meet the blogger: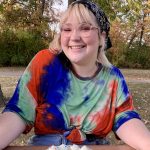 KIRA PAUL is a senior at Hamline University majoring in Creative Writing with a minor in English and Criminology. When they're not doing homework, you can find them nose-deep in YA Fiction or catching up on gaming streams on Twitch.