Pursuing a liberal arts degree equips you with all kinds of useful tools that will help you get a job or question the world around you, but did you ever think about how your degree of choice might help you reinterpret your favorite childhood book?
With endless lists of assigned reading, it may seem like years since the last time you read for fun. Remember those days? For many of us, our love of reading developed at a very early age–there so many amazing books for young readers out there… how could you have not learned to love reading?
If you haven't revisited any of your childhood books in a long time, you may be pleasantly surprised to discover that the books you loved as a kid can be meaningful to read again even now that you are older and more educated. Many books for children deal with deeper themes and subjects that may have escaped you at the time you first read them.
Ready to pop on your critical thinking cap? Here are nine books published for children that can put your degree to use.
1. Psychology: Matilda by Roald Dahl.
I'd like to kick off this blog post with everyone's favorite bibliophile. Matilda is a girl genius who is misunderstood by her abusive parents. Matilda's knack for trouble-making allows her to discover powers of telekinesis that allow her to take control of her life. As an adult, you may pick up on the darker themes of the story such as bullying and toxic family dynamics. Although Dahl's story brims with imagination, whimsicality and endless wit, it still portrays the escapism and stability a child desires when they are neglected by their family.
2. Environmental Studies/Ecofeminism: The Giving Tree by Shel Silverstein.
There is no doubt that we are degrading our environment. "Once there was a tree, and she loved a little boy." The unconditional love the tree shares for the boy in Silverstein's piece is guaranteed to remain a moving story as it asks the readers to view the natural world with empathy and the spirit of conservation.
3. Gender Studies: The Story of Ferdinand by Munro Leaf.
This book is an artfully illustrated story about a Spanish bull that wants to smell the flowers instead of charging after matadors.  As an adult, it's not such a stretch to read it as allegory against the influences of toxic masculinity: a story I think we all should read.
4. Sociology: The Outsiders by S.E. Hilton.
This is a book that withstands the tests of time. Milton's depiction of class divides and growing up on "the wrong side of the tracks" is still relevant fifty-one years later. How Ponyboy and his gang learn to navigate life with society rigged against them is interesting to analyze with a college student's knowledge of socio-economic implications.
5. English: Captain Underpants by Dav Pilkey.
Let's face it. If you've studied a lot of highbrow and serious literature you may have forgotten to laugh at potty jokes. But just like James Joyce and William Shakespeare, Dav Pilkey recognizes that humor is an important part of the human condition! So the next time you're feeling cynical about the world, pick up an edition of everyone's favorite underwear wearing hero and learn to laugh again.
6. Physics: A Wrinkle in Time by Madeleine L'Engle.
This book is basically a children's introduction to quantum physics. As a stunningly cool adventure story about kids who go across time and space to search for their missing father, L'Engle's novel is a highly sophisticated story that weaves the mysteries of the universe itself into her narrative.
7. American History: The Watsons Go to Birmingham-1963 by Christopher Paul Curtis.
The story of an African American family's journey to Birmingham in 1963 captures race dynamics more vividly than any textbook I have ever read. This story is rich with dynamic characters and cultural divisions that are more relevant than ever in today's socio-political climate.
8. Philosophy: Calvin and Hobbes by Bill Watterson.
While being incredibly funny and beautifully illustrated, Calvin's wild imagination often touches on deeper subjects such as the meaning of life and death and the purpose of our existence. With political and existential allusions, Calvin and Hobbes is a postmodern read.
9. Criminal Justice/Law: Touching Spirit Bear by Ben Mikaelsen.
When Cole, a troubled bully faces charges for beating a classmate nearly to death, he opts to fulfil his sentence in a restorative justice program that changes his life. Not only does this story act as a great introduction to restorative justice, a reader can appreciate the empathy with which each character is crafted and the powerful story of forgiveness it tells.
Whether you want to take a new intellectual spin on your favorite children's book or just wave hello to your inner child from across sea of acquired knowledge, these books are a great place to start! There are countless other majors out there and plenty more children's books too. What other combinations can you think of? What other ways are there to interpret the books I've listed? Comment below and consider yourself a scholar in children's literature.
Meet the blogger: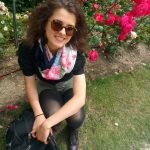 OLIVIA SKJERVOLD is a senior BFA in Creative Writing at Hamline University. She hopes to continue to writing after graduation and pursue publication herself.