Music as a form of storytelling has been part of human culture since time immemorial, and something as simple as a few note can tell us a lot about a person or a world. We can watch a love story unfold over piano with sparing use of instruments like in Pixar's Up, or a sophisticated piece to illustrate a massive battle as in Star War's Duel of the Fates. Horns providing a gravitas to the hair-raising strings and amazing orchestral work providing a deep sense of scale that can immerse us in its own scene. I dare you to put it in on during your chores and see if it doesn't make the ordinary feel epic.
The rise of storytelling musicians for me came from a genre I had written off many years ago due to the rise of the gangsta mentality that had pervaded much of the hip-hop genre in the early 2000's. That glorification and false imagery of an unattainable lifestyle wasn't a story so much as an ad, thinly veiled endorsements, dangled in front of poor youth like myself .
But what has really struck me are the newcomers of the genre harkening back to the roots of hip-hop and its richest storytellers. Chief among them is Kid Cudi, whose work circles so much around depression and coping, both mental and physical, to get out of our own minds. In a time when suicide rates are at an all-time high among youth, Kid Cudi is truly one of the most timely artists to come up in this century, and this music is the soul food we need.
The resurgence of artists deciding to go beyond just making the happy sounds and chest-beating anthems, looped ad nauseum for more plays on the radio, and getting back to the basics of music as a device to tell stories. To me, most of that impetus comes from our nation where storytellers have to provide the guidance and stability that people need to get through daily life. The harshest realities of life can have their edges softened with a good line of verse to hold in the heart through the worst of times.
What caught my ear, were the sounds of Nujabes, a DJ out of Japan. Through pieces about his homeland, Nujabes was switching up the stories being told in hip-hop and music not only there but here as well. One of the most reflective pieces of the split for me came in the form of "Think Different", a thoughtful commentary on the rap industry as a whole, the content of rappers' characters, their lyrics and especially, their treatment of women.
But Nujabes really struck me in his scoring one of the most critically acclaimed anime of all time, Samurai Champloo. This unique and amazing score score narrates the story of samurai at the end of an era through hip-hop.
These kinds of soothing stories are what the world has been crying for, and the artists are here now. Here are my essential album recommendations for story in music. Hope you enjoy.
Nujabes – Metaphorical Music
Kid cudi – Passion, Pain & Demon slayin'
Kendrick Lamar – To Pimp a Butterfly
-DJ MuFu signing off
Meet the blogger: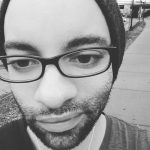 McKinley Johnson (Assistant Editor, Poetry) is a senior hovering above graduation with plans to teach overseas and dreams to become a writer the likes of Bao Phi and such, but for now he'll settle for making his deadlines.