There's a more than solid chance that you've heard of the names J.K. Rowling and Rick Riordan. Or, if you've lived under a rock the past two decades, you've at least heard of their creations: Harry Potter and Percy Jackson respectively. Bonus if you've read both of their series (for Riordan this pertains specifically to his first well known series Percy Jackson and The Olympians) because if you have read them then you've probably noticed the three commonalities most of their characters share: straight, white, and cisgender.
The good news? Both authors seem to have realized their mistake. But how they each chose to rectify the situation matters. It's important to for us as writers, to learn from the reconciliation–to note that the act can sometimes improve the situation, and other times make it worse.
Rowling took to twitter and post publication interviews to provide us with some insight or confirm our suspicions that, most notably Hogwarts had Jewish characters and that Dumbledore is gay. When news first broke, fans were elated that they were being represented in Rowling's beloved universe. Mass media even cheered and retweeted when Rowling defended Dumbledore's not-overly-present sexuality in canon because gay people "look like everyone else."
However, as representation became more common in mass media, Rowling's post publication edits suddenly became too little, too late. Frustrations from fans seeking representation have now only been heightened as it was recently announced that Dumbledore would not be openly gay in the new Fantastic Beasts: The Crimes of Grindelwald movie.
Riordan, on the other hand, put his pen where his problems were, and made certain no one could claim any of his other books were lacking representation. The spin off series to Percy Jackson and the Olympians—titled The Heroes of Olympus—featured a Latino character, a Creole character, a Chinese-Canadian character, a Native American character, and had one of his most popular characters come out as gay. He would later also add a bisexual point of view character, a Muslim character, and a gender fluid character (to name but a few) to his universe.
The final character even earned Rick Riordan the Stonewall Award, an award that recognizes LGBTQ representation in literature. In his acceptance speech, Riordan acknowledged the inherent problem of giving this award to a straight, white, cis male such as himself, but used his speech as a platform to call other authors to action in addition to promising to work harder in his own writing.
Of course, there are plenty out there who would argue that Riordan isn't doing that great, that he has jumped the shark, that his first series was the best and he's only writing representation now for the sake of representation (not totally certain what the problem is there, but whatever). What a lot of people don't know is that even his first story, the super straight and white one, had its roots in representation. See, Percy Jackson started as a story for his son who, like Percy himself, suffered from ADHD and dyslexia. Riordan wanted his son to know that, even with learning deficiencies, he could be a hero, too.
So writing diverse characters to show kids everywhere that they are strong and capable of doing amazing things? That's kind of always been Riordan's modus operandi.
This is not meant as a condemnation of Rowling. Really, Rowling probably wouldn't have any problems if she simply admitted that her books are products of their time. Harry Potter and the Sorcerer's Stone, the first of the series, was published in 1997. The final book, Harry Potter and the Deathly Hollows, was published over ten years ago, in 2007. In terms of societal change and the rise of representation, that's a *long* time ago. Rowling can acknowledge this and, as Riordan did, simply promise to do better and use her notoriety to encourage other authors to do so as well, because if the representation isn't prevalent in canon, then what good is it doing?
Meet the blogger: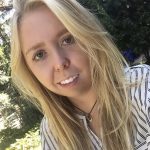 SKYLER KANE  is a junior at Hamline University studying Creative Writing. Fully under the belief that living just one life is sad and boring, Skyler has found a home in storytelling. She spends her days collecting books, imagining that one day she might see her name on one.