After binge watching the second season of Netflix's original series GLOW: Gorgeous Ladies of Wrestling, I was so drawn to (and distracted by) these women of the ring that my fan fiction(?) brain, started to imagine who their literary role models might be. I feel compelled to share my list so that we all may find inspiration from the. . . GLOW: Gorgeous Ladies of Writing.  
Character: Ruth Wilder
Ruth is so traditional in her way of thinking, but she loves to break the rules. She believes she does everything correct, but is the first to apologize when she does something wrong. For these reasons, I think she would enjoy Jane Austen's work, focusing on the feminine aspects of 18th century British nobility (not to mention the occasional themes and handling of infidelity).
Character: Debbie Eagan
Debbie is a bull headed woman that isn't entirely rational. She is hard to negotiate with, a master at getting what she wants, and is prone to making rash decisions to fix temporary problems with permanent solutions. Daphne du Maurier is a romantic novelist I think Debbie would love if for no other reason than her quote, "women want love to be a novel, men a short story."
Character: Sheila the She-Wolf
Sheila is by far the most mysterious one of the group. Her keen senses and acute relationship with nature makes her a character of curiosity and very memorable. Victorian era writer George Eliot is a great writer that seems to reflect similar characteristics: a nature enthusiast, feels as if she is one with animals, and is just trying to teach her readers self understanding.
Character: Tamme Dawson
Despite her controversal wrestling character, Tamme is a woman with lots of love to give. She recognizes the flaws her character depicts but decides to own it rather than let it own her. As a single mother trying to raise her son to stand up for what he believes in, I think she would recommend Maya Angelou. 
Character: Melanie Rosen
Party girl Melanie is very outgoing and ready for anything. Her open sexuality and feminist point of view makes her a very personable character and relatable to many viewers. Her sarcasm and sense of humor are very similar to that of Erica Jong, who pushed the boundaries of modern feminism back in the 70s with her novel Fear of Flying.
So yes, by all means, watch the show; it's fun. But then consider picking up a book by one or two of these characters' writing doppelgängers; the bad ass women of writing. 
Meet the blogger: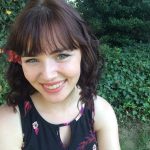 ALEXA CALLIGURI recently graduated from Hamline University. She won Hamline's Broadside Award for CNF in Spring 2018. She lives in Lonsdale, Minnesota, where she is made fun of for taking things out of the trash and putting them in the recycling bin.