1. Young Chicago Authors (Chicago, IL)
YCA is the nonprofit birthplace of "Louder Than A Bomb," now recognized as the largest youth slam in the world. YCA provides a variety of free programs for young writers such as weekly open mics, and poetry/hip hop workshops. YCA prides itself in being a brave space that doesn't tolerate any racist, sexist, homophobic, gender biased or other identity-based hate. YCA is also the program that Chance the Rapper came up in. As a former participant in YCA's Louder Than A Bomb, I can confidently vouch for the effectiveness of its programs. What makes YCA special is their focus on community. The teaching artists facilitate an environment where students can grow as well as support one another. It is truly special.
2. Tru Art Speaks (Twin Cities, MN)
Founded in 2007, Tru Art Speaks is a nonprofit that seeks to provide young people with a supportive community as well as a platform for their voices to be heard and represented. Tru Art Speaks is invested in honoring youth in conversations they are typically left out of while empowering them to share their truth unapologetically. Tru Art Speaks hosts a popular open mic, writing workshops, and a successful poetry slam series. Tru Art Speaks is the epitome of art intersecting with activism. Time and time again, Tru Art Speaks has proven their dedication to young people. Everyone I know who has participated in Tru Art Speaks has nothing but praise for this amazing organization.
3. Slam Camp (Bloomington, IN)
Since its debut in 2012, Slam Camp's attendance has increased by record numbers. Held on Indiana University's campus, the week-long summer program is open to incoming high school freshmen through outgoing high school seniors. The classroom-based curriculum involves a rigorous combination of writing prompts, the history of slam, competition strategy, as well as guidance for marketing yourself as a professional. The counselors of this camp are primarily spoken word artists who gained international followings after going viral on the YouTube channel Button Poetry. As a current camp counselor and former camp attendee, I cannot stress how helpful this camp was to me as a writer, performer, and budding professional. Slam Camp equipped me with the tools to go out and participate in my local slam scene.
Beginning at the high school classroom level, Poetry Out Loud is a structured program that teachers can implement into their classroom. Students choose poems from a pre-designated published anthology and perform them at various competitions. Competitors have the potential to advance from the classroom to school wide, state-wide, regional, and finally the national competition where cash prizes are awarded. Poetry Out Loud aims to enhance youth's self-confidence, public speaking abilities, and historical literary understanding. This program has been essential in the movement to get spoken word integrated into public schools.
5. Get Lit (Los Angeles, California)
According to its mission statement, Get Lit strives to "use poetry to increase literacy, empower youth, and inspire communities." With curriculum implemented in nearly 100 schools, Get Lit is achieving and exceeding their mission at an admirable rate. Their programs include standard poetry slams, open mics, summer camps, and drop-in classes. Get Lit's dedication to providing youth with opportunities and education makes it a famously impactful organization. Similarly to Poetry Out Loud, Get Lit has been pivotal in the growing intersection of academia and spoken word.
Meet the blogger: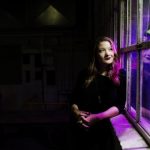 Blythe Baird is an internationally known spoken word poet. Her viral work has been featured by The Huffington Post, Ashton Kutcher, Write Bloody, Button Poetry, Mic, Bustle, and more. In 2014, Baird was the youngest competitor at the National Poetry Slam. By 2016, Baird was recognized as a top finalist for the Global Young Achiever Award. Her first book GIVE ME A GOD I CAN RELATE TO is a pushcart prize nominee.