It was a school librarian who first told me comic books and graphic novels weren't "real books," exemplifying an attitude that is still all too present in literary circles. While a few serious autobiographical works like Fun Home, Maus, and Persepolis have reached critical acclaim and worked their way into the contemporary canon, a lot of comics are still dumped into the elitist category of "low" art. It's only when we start to break down this gate-keeping that we can start to see how many works in the graphic format are worthy of the same consideration as any other book. The iconic artist Jack Kirby once said, "Whatever I do… I can assure you that it'll electrocute you in the mind!" Hopefully these five titles will do just that.
1. Black Hole by Charles Burns
Black Hole feels like a low-budget horror movie you remember watching at a drive-in theater in a nightmare. The plot weaves through the perspectives of a group of high school kids in a fictionalized 1970's Seattle, during an outbreak of a sexually transmitted disease that causes bizarre physical mutations in those infected. Burns builds an intricate, eerie, and emotionally resonant coming-of-age story, with his swirling pen-and-ink drawings playing into an aura of dread, alienation, and unsafe adolescence. Black Hole can be purchased from Pantheon Books or your local comic book store.
2. "Habits" by Lauren Monger
"Habits" follows a cast of anthropomorphized rodent punks through their everyday misadventures. The dialogue is quick, realistic, and darkly funny, and Monger's watercolor illustrations are alternately grimy and endearing. Beneath the humor, the characters speak to pain and ennui that runs deeper than punk-rock angst. "Habits" is published as a weekly strip on the Vice website.
3. Video Tonfa by Tim Goodyear
This is a funky one. Video Tonfa is simultaneously an eclectic collection of film reviews and a memoir, offering personal insights within handwritten criticism of hundreds of movies, accompanied by sketches of VHS covers. Scrawled on yellow legal pad paper, the book's aesthetic is rough and personal. Video Tonfa itself is as much of a curiosity as any of the dusty Blockbuster tapes referenced within. Available from Floating World Comics or your local comic book store.
4. Black Panther: A Nation Under Our Feet by Ta-Nehisi Coates
Ta-Nehisi Coates has already reached widespread recognition as a journalist and the author of the brilliant Between the World and Me and We Were Eight Years in Power, and his first piece in the comic book format is no less impressive. A Nation Under Our Feet uses the characters and world of Black Panther to explore questions of government, nationhood, and power. The writing contributes brand new layers to a fascinating fictional universe, and Brian Stelfreeze's art brings a rich Afrofuturist world to life. Black Panther: A Nation Under Our Feet is available from Marvel Comics or your local comic book store.
5. Ghost World by Daniel Clowes
One of the better-known comics on this list, mainly due to a film adaptation in 2001, Ghost World chronicles a close and turbulent friendship between two young women. Much like "Habits" the dialogue is snappy and the humor hides pain. The plot is adventurously meandering, with a menagerie of weirdo side characters including psychics and Satanists. Clowes's monochrome, fifties-style art is reminiscent of early Mad Magazine. Ghost World wanders through a strange and uncomfortable sort of growing up. Available from Fantagraphics or your local comic book store.
What are your thoughts? Was my school librarian right? Am I leaving out any great, imagination-frying books? Let me know in the comments!
Meet the blogger: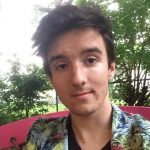 MAX FIREHAMMER is in his third year as a creative writing major as Hamline University. The last comic book he read was Sugar Skull by Charles Burns, and he's open to recommendations as to what the next one should be.