No matter how prolific a writer you are, we all run into moments where we need a little extra inspiration. 
Here are some tips on how to use your own photographs to inspire all elements of storytelling, from mood to setting to character and beyond. There are plenty of articles about how to find inspiration for your writing and look outside yourself, but using your own photos as a reference is a unique way to find inspiration inside yourself while still removing yourself from the piece of writing at hand. I know this is certainly a method that has helped me a great many times. 
Write the true story of the photo, the details of the moment(s) preceding or following. Or, perhaps a close look and write a description of the elements in the frame.
If you had to use one word to describe the photo, what would it be? Use that word as the theme for a story.
Zoom in close on parts of the photo or crop sections as small or large as you like. Don't be afraid to cut to random sections, don't overthink it. How does the energy of these sections of the photograph differ from the original photograph? Write a character that has the same emotional presence as each of the cropped or zoomed sections, then write them into the scene of the original photograph.  
Write a character into the scene. You were there for the photo, you took it, or maybe you're even in it. How might you imagine another character would have behaved in that moment? 
Zoom out: you know what's happening in the frame, now tell us what's happening around it? What can't we see? What terrors or joys lie just outside this glimpse into a moment in time? 
Have any ideas of your own? Share them in the comments below to help keep your fellow writers inspired.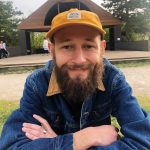 NOAH TOPLIFF is an undergraduate student at Hamline University in the final year of completing his BFA in Creative Writing. He spends his time outside of his studies writing and recording music and spending time with his dog and girlfriend.