It's that time of year again. Winter is finally over. The days are longer, the birds are chirping a little louder, and the sun shines just a little brighter. Everything is perfect, and then you remember graduation is (or was) around the corner. Suddenly the springtime is filled with dread and doubt because you chose a creative writing major and don't know what to do next. After all, people everywhere seem to assume that a degree in creative writing is a degree in unemployment. Well, I'm here to tell you to worry not! There are plenty of career paths for a fearless, creative person like yourself.
Because of the endless number of career opportunities and my limited word count, here are some possible paths to choose from, listed from most to least obvious. (Note: jobs three through seven are listed on the website insidejobs.com.)
Published Writer
This one is probably the most obvious. I'd be willing to bet every creative writing student has dreamed of writing his or her own book, and while this is certainly a wonderful dream, not many authors do well enough to make a living off of it. If this is your goal in life (as it is mine), keep at it, but make sure you have a backup plan like some of the following possibilities.
Graduate School
Although technically not a career, graduate school is one option to further your education and point you down the track you want to be on. It isn't a requirement for most careers, but if you want to pursue a career in education (especially at the college level) it is a necessity.
Teaching
I can't count the number of people who when I've said I major in English and Creative Writing ask me if I want to be a teacher. While I answer 'no,' other people may say 'yes.' Teaching creative writing at a high school or college is a rewarding option that can help pay the bills. You don't even have to limit yourself to teaching in schools because there are plenty of community writing programs you can be a part of.
Volunteering is a great way to get your foot in the door. For example, you could teach creative writing at a prison, such as the Minnesota Prison Writing Workshop, or at your local community center. Once you've got a bit of experience, you can start looking for further opportunities.
Greeting Card Writer
Maybe you're the kind of writer who likes to touch others with your words. Whether you like to make people laugh or cry, writing greeting cards may be just the job you're looking for (even if it's just to pay bills while you write your novel). According to Inside Jobs, you need nothing more than an Associate's Degree to pursue this career, and you can work for a greeting card company or work freelance.
Independent Filmmaker
You don't have to be in Hollywood to write movies. If you've always had a passion for film, you can write your own script and pitch the idea to investors. While you may end up funding the project yourself, you can always film the movie and then send it out to a distribution company for purchasing. If nobody bites, you can also share it online.
Television News Producer
If you have a Bachelor's degree in creative writing and a passion for spreading important news, then working as a television news producer may be for you. You won't be front and center, but you'll be the one controlling and editing the topics of the day.
Music Video Director
This one's a little more out there, but hey, creative writing is a pretty imaginative major. According to Inside Jobs, all you need is a bachelor's degree to pursue your dream of directing the music video for Hollywood's next Taylor Swift. Alright, so maybe you won't be working in Hollywood, but you'll never know until you try.
After reading about these seven career options
I hope you are feeling even more confident in your choice of major because I think creative writing is one of the best majors you could choose. Not only have you chosen something you love, but there's a world of possibilities out there for you. There is little need for you to worry; as long as you're willing to put in the work, you will find a path you love.
[Editor's note: Don't forget that writers have a long history of supporting their habit with "day jobs." Stephen King was a janitor; George Saunders "worked in a slaughterhouse, as a doorman in Beverly Hills, writing up animal tests for a pharmaceutical company, as a roofer, a convenience store clerk etc., etc."; Suzanne Collins wrote TV shows for kids; and Margaret Atwood (like many of us) worked in a coffee shop. Here are some other jobs that writers had before launching their writing careers: 24 Famous Writers.]
Meet the blogger: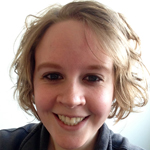 MEGHAN O'BRIEN is a junior at Hamline University pursuing a double major in English and Creative Writing. She one day hopes to write a publishable book and enjoys reading chick lit and murder mysteries. Her favorite authors—at the moment—are Gillian Flynn and Sophie Kinsella.