Why are you reading this? Why are you even on the internet?
You wanted to build a community with someone. You wanted to reach through that ethereal bond of the internet and be able to say, "Yes, you get me. Please metaphorically hold my hand through the next episode of Grey's Anatomy because I might just explode." We do it all the time.
You could be out in the world, enjoying our beautiful, if chilly, spring weather. You could be riding your bike. You could be drinking coffee with your friends. Maybe you are drinking coffee with your friends, but you are scrolling through your screen reading this too. No judgement, we've all been there.
You had an experience and it moved you. You decided that you wanted to talk to people about the incredible thing that just happened.
You read a book. You saw a movie. You read a poem. Now all you can think about is how much you love this new thing and you must share that with someone. Maybe you hated that new thing or you aren't quite sure how you felt about it so you want to hear other people's opinions first. You turned to the internet, where millions of people have opinions on thousands of subjects and they are just waiting to be heard.
We want to know that someone else is as deeply connected to this work as we are. Fandoms have strength to lend each other. They come together and debate, because why would they bother if they didn't care? Why would they have a small shrine of seemingly meaningless objects on their desk, and treat them with such value?
I have T-shirts from some of my favorite series. I have stuffed animals, "adult" coloring books, and toy VW buses. I embrace my love of fandoms because fandoms are my community. I embrace my love of all of these books, movies, and TV shows because the internet gave me a community where I had only one or two people. I have found a group of people who can answer my questions and start a debate. Even pose crazy and spectacular fan theories with and then are inevitably shut down. In an interview with the Runestone Editorial Board, Esther Porter had the best description of a reader's community, "People who find value in other people, but commune with people alone-by reading.".
Communities are important to everyone. Whether it is a community based on a religion, a political statement, or a special interest, we all want to be a part of it. We are all just swimming around the internet, looking for the next thing that follows the tags we watch.
So go out and watch them. Find a forum that you like. Review your new favorite book on Goodreads. It's okay to be a fan of stuff. It's okay to write fanfiction. It's okay to be the biggest Potterhead of all Potterheads. Find your people. Because that's why you're here, isn't it? You are here because you read something of ours, probably Volume One, and you stayed to check out our blog.
So ponder it some more. Find your people. It is the age of information and we are never alone.
Student Editor
Meet the blogger: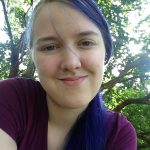 Rachel Bakke is a senior at Hamline University working to complete her BFA in creative writing, specializing in fiction. She can usually be found on a theatre set armed with a drill, writing, or playing some kind of table top game.