2020, to put it lightly, was an awful year for most people. Our ways of living have been radically changed. COVID has been a constant worry and the presidential election caused stress for many. Although much in the immediate future is uncertain, we all must find different ways of coping. I usually read as a way of an escape. The feeling of escapism is something many of us are seeking again at the start of 2021. I found the following literature especially compelling because of how they relate to our contemporary moment. These make for great stories and insightful readings. If anyone is looking for a good read during these first few months of the new year, I highly recommend these works. 
A post-apocalyptic story of a father and son traveling through a ruined America. The story imagines a future where all hope has been lost. It depicts the worst and best traits of mankind. With growing fears of where this country will go in the years after the 2020 election, along with COVID-19 being a consistent threat, the feelings of hopelessness in this novel can relate to our contemporary moment. Admittedly, that is terrifying. However, that makes this even more compelling. I can see pieces of the real world in this novel and it is so interesting. I would highly recommend this novel to anyone who is a fan of post-apocalyptic stories. Warning: The novel does contain dark graphic descriptions and sensitive topics such as suicide. 
The Malevolent Volume by Justin Phillip Reed
This collection of poems by the award-winning writer depict a dark, gothic reality of the exploitation of marginalized people in the U.S. Many poems in this collection touch on topics such as white supremacy and being a queer person of color. With political policies and societal resentment set to clash for years after the 2020 election, it is important and intriguing to look through the eyes of someone who has already felt this oppression. I find Reed's use of dark imagery and childhood references immersive. He depicts his disgust towards the historical/current treatment of people of color. This historical disgust can be felt by followers and supporters of the Black Lives Matter movement, especially after the recent murders of George Floyd and Breonna Taylor. I highly recommend this collection to readers and poets who support the movement, and to anyone who is interested in the subject matter. 
The Nickel Boys by Colson Whitehead
This Pulitzer Prize-winning fictional story follows the journey of Elwood Curtis, a Black teenager growing up in Tallahassee in the 1960s. The story follows Curtis being sent to Nickel Academy, a fictional juvenile reformatory based on the controversial real-life Dozier School which operated in the state of Florida for 111 years. Curtis and other characters in the story face horrors that parallel the true atrocities that children who attended Dozier endured. The details and images depicted in this novel filled me with much discomfort, especially when you consider the fact that similar atrocities are happening still to this day. While human trafficking has become a larger issue in society, it is scary how the abuse and torture of Curtis and the other characters in Whitehead's novel are a reminder of this problem. Although it is not outright kidnapping and trafficking per say, the story of the Nickel Boys taken away from their homes to a reform school where they are subjected to racially-motivated abuse and torture with the potential for being murdered, is a horrible parallel of the reality we live in.  The elements of horror in this novel are extremely compelling. The building of tension and the development of Curtis's character throughout the story were also well done. 
I recommend these three titles, not just because I find their stories compelling (and they are!), but also because these stories remind us of the moment we live in. Even though some are based on events of both the past and possible futures, the themes of abuse, neglect, discrimination, and loss of hope are all too familiar still today. The more we read, the more realize that these topics in our society are not fiction. I hope that readers can see the similarities between these literary works and our realities like I have. I feel that these three books, and others like them, could bring more awareness to any of these issues and inspire us to address them. Instead of giving up hope, let's look to a better future in 2021 and beyond. As Terry Pratchett said, "There's always a story. It's all stories, really. The sun coming up every day is a story. Everything's got a story in it. Change the story, change the world."
Meet the blogger: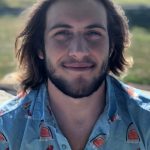 JOE JOYCE is a sophomore at Hamline University. He is a creative writing major and English minor. His concentrations are in fiction and poetry. He hopes to find work as a writer after graduating. In his free time, Joe likes to swim, play guitar and make audiobooks.