I didn't know I wanted to be a writer …

except for when I was in middle school and high school, but never in college. I had planned to be a biology major doing the pre-med track during my years at Hamline; but as the years went on, I saw that I wasn't happy doing science or its required labs.
In the spring semester of my sophomore year, I took a creative writing class with Deborah Keenan and realized what my passion was again. It was writing. When I was in Deborah's class I was able to relax and pour my thoughts and feelings onto the page.
I was a writer again.
Since then, I have changed majors and decided to be a poet. I loved writing poems—because they were mine—but it was also hard to be a poet with homework from other classes getting in the way. Even so, I still managed to find time to write here and there. Shortly after becoming a poet, I discovered I was pregnant.
You can guess how that changed my life.
I had another reason to write. My writing blossomed in a way I never thought it would, because I had someone to write for besides myself. I wanted my writing to document my days leading up to meeting my daughter. Time flew. As quickly as she arrived—so went the time I had dedicated for my writing.
Life after having a baby:
The constant diaper changes, the feedings every two hours, and the burping … now that was my life times two because I also had to finish my junior year, and keep working my part-time job. There was definitely no time to write, or so you'd think.
It took me a while, but I learned how to squeeze a little time for writing while trying to be a mother and student.
First: You learn what time your baby likes to sleep, or put them on a schedule (that helps A LOT, trust me).

Second: Write everything that you have done in your day and everything that your child has done (all these notes will help later on).

Third: Always have a notebook ready just in case you need to write something down, especially if your baby takes their first step, or says their first words. (Heck—or maybe they just did something funny or cute!) You can have one in your diaper bag, beside the crib, in the kitchen—you know, typically the mom area.

Lastly: Cherish every moment and help capture that.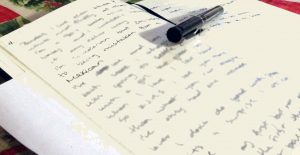 By writing down small observations of your day for at least five minutes, you can get so many ideas onto paper. This will lead to so many memorable poems of you and your child.
I admit, as my daughter gets older, this gets harder. Ever since she started walking, she likes to dig in everything in sight and grab everything. But as she changes, so will I. I will find new strategies.
I was and am able to be a mother, a writer, and a college student with a new baby. I am a mother writer.
Meet the blogger: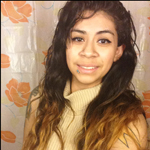 BLANCA CRESPIN is a poet who recently graduated from Hamline with a degree in Creative Writing. Her current work is centered on being a new mother and her time is spent writing, working, and being with her daughter.