Situated on the corner of St. Clair Avenue and Snelling Avenue, the St. Clair Broiler opened its doors in 1956. The display sign boasts classic neon letters and flames, a callback to that decade of monogrammed blouses, stylish eyeglasses, and rock & roll. While the first fast food restaurants began multiplying around the nation, the St. Clair Broiler stayed firmly rooted in the Macalester-Groveland neighborhood of St. Paul. They serve a variety of dishes today– the menu brags of all-day breakfast, creative sandwiches, ribs, and desserts– but they are still best known for the charbroiled burgers and hand-dipped malts that made them a local landmark nearly sixty years ago. The St. Clair Broiler is tied to the Twin Cities as an evocative emblem like one found in fiction, such as the Double R Diner of Twin Peaks.
Many writers set aside a special place to work on their craft. For some, it can be a desk in the attic, or a favorite park bench. Others prefer background noise and gravitate toward cafes and coffee shops. One Minnesota writer, William Kent Krueger, regularly wrote at the St. Clair Broiler for over twenty years; a diner now woven into the literary fabric of the Twin Cities.
In the late 1980s, William Kent Krueger, then employed at the University of Minnesota, began spending his early mornings writing at the diner before going to work. He always sat in the same booth from 6:30am-8am, writing longhand in wirebound notebooks. He garnered the attention and support of the Broiler staff, who eagerly watched and waited for the story to come together. When he published Iron Lake, it was the first of many books to come out of Krueger's time at the diner.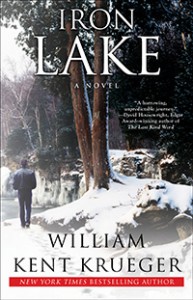 Iron Lake is the first book in the Cork O'Connor mystery series, which is set in northern Minnesota. Corcoran "Cork" O'Connor– part-Irish, part Anishinaabe Indian– is a former sheriff who takes on grim, compelling cases. The books combine bleak wilderness and mythic puzzles to establish their specific niche within the genre. Krueger has said that he found the chatter around him at the St. Clair Broiler a source of inspiration rather than a distraction. Prior to Iron Lake's release, he remarked:
I think there's an energy here that fuels the writing as much as the coffee does. There are people coming and going and you're involved in life and occasionally, if I need to look up from the page, I look out there, and I see life passing me by on the street as well. Sometimes I'll see somebody wearing something and I'll think, "That's really striking," and make a note of it, and that's an outfit I'll have somebody wear. I think the thing about the Broiler is you don't take yourself outside of life, you sink yourself into it, and out of that a whole lot comes.
Krueger continued to write at the St. Clair Broiler for some time after Iron Lake's release. Though he writes elsewhere now, Krueger still rises early and seats himself wherever a hot cup of coffee can be found. But the St. Clair Broiler is forever immortalized in the Cork O'Connor series– a diner known simply as "the Broiler" is detailed in the pages of that northern Minnesota locale. 
---
Meet the blogger: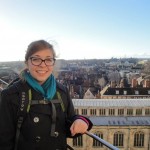 Sarah Basil focuses her studies on creative nonfiction, and loves to explore hybrid and graphic genres as well. She graduates in May 2015 with a BFA in Creative Writing and a minor in English literature. Her work appears in issue 6 of Dirty Chai Magazine.