Like many, I need some background noise while I'm writing. It could be the hum of a coffee shop or a tv on in another room, as long as it's something not too distracting, I'm happy. But my favorite thing to write to is classical music. I've been studying classical flute for over a decade, and as of now I'm one senior project away from a Music degree.  I've curated 10 classical playlists from Spotify perfect for any kind of writing: 
Sci-Fi-

Space-themed Classical Music

: From movie soundtracks, contemporary creations, and, of course, Gustav Holst's orchestral suite "

The Planets

," this playlist should inspire any sci-fi writer to create something out of this world. 

Fantasy-

Romantic Era 50: Spotify Picks

: This is the era that produced well known composers like

Wagner

and

Rimsky-Korsakov

. Characterized by emotion and drama, the Romantic Era is a perfect soundtrack to epic battles, long journeys, and quieter moments too. 

Romance-

Folk-inspired Classical Music

  The simple and sweet melodies of folk music are sure to inspire some love. Featuring composers like

Copland

and

Grieg

, this lively playlist will make you want to dance in a prairie with your one true love. 

Experimental-

Avant Garde 50:Spotify Picks

: If you're writing something a little out of the box, look to these 20th century compositions for inspiration. Composers include

João Pedro Oliveira

and

Rebecca Saunders

.

Comedy-

Baroque 50: Spotify Picks

: The period that brought us

Bach

,

Vivaldi

, and

Handel

often features the plucky harpsichord, and fun music to smile to. 

Poetry-

Lute Music for Alchemists

: Lute music from some of the best European Renaissance and Baroque composers (like

J.S. Bach

and

Giocomo Gorzanis

) makes for a calm and focused atmosphere, even when your poetry isn't.

When you're writing something sad:

Classical Noir

Melancholic in minor keys, this collection of dark music from composers like

W.A. Mozart

fuels heartache.

When you're writing about nature-

Birdsong in Classical Music

: From Baroque to contemporary, with composers from all over the world, this playlist transports you to the wilderness. The avian inspired composers include

Camille Saint Saens

and

Somei Satoh

.

When you're looking for some drama-

Epic Classical

Are your characters are getting in huge fight? Is someone dangling from a mountain or getting chased by the police? Featuring masters of the dramatic, like

Tchaikovsky

,

Prokofiev

, and

Dvorak

, this playlist will have you on the edge of your seat. 

Writing when restless-

Spotify Orchestra: Cello

: Everyone knows the stress of the impending deadline, and the stress gets even worse when you can't concentrate. From composers like

Eric Whitacre

and

Jaques Offenbach

, the dulcet tones of the cello are perfect for centering your mind, and getting your work done. 
There's nothing more inspiring to me than the way instrumental music is able to tell a story or convey a feeling without using any words. I hope these talented musicians and composers can help you be a better writer.
Meet the blogger: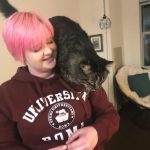 ANN MARIE LEIMBACH sudied music and creative writing at Hamline University. Besides writing, their passions include playing flute and complaining about playing the flute.